Bismillahir Rahmaanir Raheem - In the name of Allah Most Gracious Most Merciful
Alhamdulillahi Rabbil Alameen wa Assalaatu Wassalaamu Alaika Yaa Saiyyadul Mursaleen.
Let there arise out of you a group of people inviting to all that is good,
enjoining Al-Maroof and forbidding Al-Munkar. And it is they who are the successful.
(Aal-e-Imraam; 03: 104)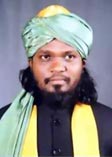 Hazrat Saheballah
Founder & Manager
Vinod G Sapla
President
Shah Wali Mohd.
Vice President
Shatish P Muley
Vice President
Vijay B Dhami
Vice President
Minal V Sapla
Gen. Secretary
Ambadas Durgam
Joint Secretary
Nilesh Desai
Joint Secretary
Madhu Harekar
Joint Secretary
G Anandi
Treasurer
Administer of Darbar
| | |
| --- | --- |
| | |
| Md. Sameer Kapadiya | Shaikh Masiha Siddiquah |
Shaikh Sameer
Event Organizer
Shaikh Sameer Raja Armaani
Event Organizer
Shaikh Muneer
Joint Event Organizer
P. R. O.
| | | | | |
| --- | --- | --- | --- | --- |
| | | | | |
| Shaikh Amjad | Sanjay Bankar | A Rehman Junwaly | Sabir P Ansari | Shah Munawar |
Executive Members
Dr. Kisan G Gargote
Sharif-Ul-Haq
(Imaam Saheb)
Pandurang Muley
Shaikh Md. Shakil
Gauri Vishwakarma

| | | |
| --- | --- | --- |
| | | |
| Madhu Muley | Sk. Faiyyaz Ahmed | Alauddin Mujaawar |
Back to Management Index